Recently I have been reminiscing over memories of my younger days. I know, I know – I'm not that old. But the fact remains that I have been out at clubs for 25 years! Just recently I was having a conversation with a few friends who were commenting on just where they were in 1979. One said, "I was in diapers". The other said "I wasn't even a thought yet". And I said…
"I was probably drunk!"
So, in thinking back on what was truly a golden era of dance music and dance clubs – I thought I'd spotlight some of the places I used to go to 'back in the day'. These spotlights will be in no order – just places I remember fondly.The best of the bunch is hard to name – since each represented a certain personality … a certain charm. So, I think I'll start with the most impressive disco and then jump around.
For anyone into dance music in 1980, paradise was found on 2nd Avenue - in the form of
The Saint
.
Owned by infamous club owner Bruce Mailman, The Saint was located in the old Fillmore East theater, which had been a Rock club in the 70's. The location was a huge 50,000 square feet three level club with lots of doorways, passages, stairs, balconies and overlooks. It was a gay membership club, and memberships were $250 a year (back in 1981) and a year really meant just September through May, since the club was closed over summer as everyone went to Fire Island.
This was truly the A-Ticket.
Millions of dollars was spent in concrete, glass, marble and steel to create this exceptional club with its fantastic lighting, sound system, amazing hydraulics and mechanical support. The Saint had a huge 5000 square feet dancefloor under a enormous 76 feet high dome, in the center of the dancefloor was the hydralic lift mounted lightning system which could create effects like a eternal night sky or a wonderful sunrise.
The dancefloor held over 2,000 people
at any given night!
Here's a rare glimpse of the floor and the dome in action
(circa 1983)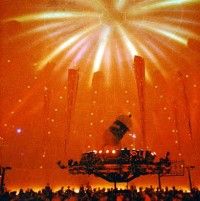 Close to 500 speakers were included in The Saint's phenomenal sound system and The Saint made its reputation by holding its famous Black Party, White Party, and a few other themed events. The Saint truly was home to EuroDisco and classic Hi-NRG music of the early 80s.
In May of 1988 it closed with a 48-hour non stop dance party. According to DJ Robbie Leslie, the last dance song played was Jimmy Ruffin's
"Hold On To My Love"
followed by Marlena Shaw's performance of
"Suite Seventeen"
. The closing classical music (it was a tradition to close the parties with a classical piece of music) lasted one hour and included "Pomp and Circumstance" (from Clockwork Orange), "Mefistofele" and "Beethoven's Ninth" (final movement).
I've never seen a club like The Saint since its closing. Quite frankly, I am blessed to have been one of the many to have danced under the Dome. It was quite an experience.