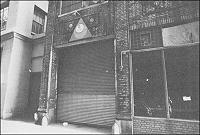 One of my most memorable club experiences was attending 'church' on Saturday nights in NYC. The venue was 84 King Street and looked like a simple, weathered garage ... but inside it was pure paradise. It was the Paradise Garage.
As famous and legendary as the club itself was the Garage's DJ - the late
Larry Levan
.
Larry was the resident DJ of "the Garage" and to many people he
was
"the Garage". Lots of people, and other DJ's, came to the club just to hear him play... He was a true master behind the turntables.
As a very strict "MEMBERS ONLY" club, half the battle was getting pat the bouncers. Once you did, you walked up the runway (which was the old entrance for cars to the old garage) and with each step the thump thump thump got louder.
The dance floor could easily hold 2,000 people and had a performance stage on the side. Some of the best dance artists of the late 70s and early 80s performed live there every week. Musicians like
Grace Jones
,
Patti LaBelle
,
Chaka Khan
,
Colonel Abrams
... The list is endless.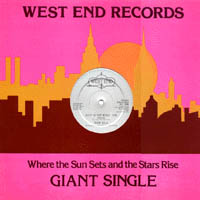 For a good audio memory of the Garage, all you have to do is pick up any 12" dance single you find on
West End Records
. That label was owned by a co-owner of the Garage, Mel Cheren.
Besides being able to spot a hit song, Mel was also one of the first and one of the driving forces behind this new dance music genre Disco and the whole Disco era.
If it wouldn't have been for pioneers like him and labels like West End and Prelude (another New York Disco label) the Disco scene probably wouldn't have become as powerful as is really became in the late seventies.
The highlight for me at Paradise was to be there on a Saturday night - when 'church' was in session. The music was pure, sweaty, funk and disco and the crowd was simply taken to a whole new level of euphoria. Then, around 6am or so, you would make your way to the rooftop patio and watch the sunrise over Manhattan. It got no better. Truly.
The club didn't serve any alcohol, but everything in the club was free once you had paid your entrance fee. In the bar they had a load of fresh fruits and snacks, juices, water and other refreshments, all for the taking.
And then there was Larry. I've never come across a DJ as good as Larry Levan - he was one of the first DJs to use a songs intrumental parts, break beats and accapellas to make completely new "live" remixes of the songs he choose to play, and inspired a whole new generation of DJs.
He understood. And he's missed.